Learning Hungarian… attempt #1
My experience with languages has been…interesting, and unfortunately not that fruitful when it comes to actually carrying on a conversation in another country. The first language other than English that I was exposed to was french in 7th grade. I struggled every step of the way, and unfortunately the only phrases I remember are "bonjour" and "Je M'appelle Aaron". In High School I avoided spoken languages all together with Latin and Ancient Greek. Being able to read Greek script might come in handy in a year, but unless I need to use an ATM at the Vatican I don't think Latin is going to be of much help to me.
In 2009 I visited my roommate in Seoul on my way back to the US from my semester abroad in Australia. I made a decent attempt at learning Korean, including a basic knowledge of the alphabet. I learned and still remember the basics like hello and thank you (안녕하세요 and 감사합니다), and to my surprise I was even able to string together a couple sentences. Unfortunately I didn't get to use my Korean all that much, as no matter where I went in Korea most everyone spoke English to me.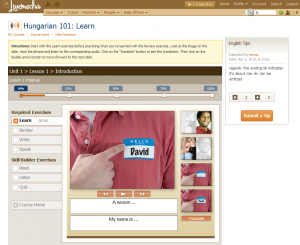 So with these four languages the only experience I have under my belt, I am not exactly optimistic about my attempt to learn Hungarian. There is less than four months until departure, so I'm not expecting to be proficient by any means. My goal is to be able to carry on a very basic conversation (that will hopefully quickly transition to English), and navigate my way around the city. All my coursework will be in English, but if I'm spending 9 months in a country I definitely feel obligated to try and learn the language.
I can't afford expensive language learning software like Rosetta Stone, and even if I could Hungarian is not an option with most of those software packages. So I'm turning to a very cool free option that I found while trying to learn Korean in Australia, Live Mocha. It gives you a bunch of free lessons in the language, and puts you in contact with native speakers trying to learn your language. The hope is that you can teach each other things about your languages that you might not learn in the lessons. I like the general outline of the lessons, but I feel there are two big problems with it* (see update below). First, Live Mocha uses the script of the language your learning and doesn't teach you how to pronounce that script beforehand. Second, and kind of related, I'm not sure if I'm pronouncing any of the words correctly. Only when I talk to a native speaker do I find out if my pronunciation is anything close to correct.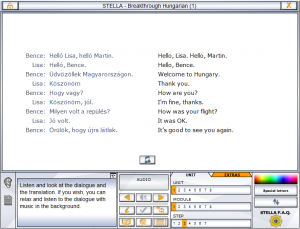 To try and patch up of some of these short comings I'm also using another free service called learnOasis. This lesson has a supplementary beginning section with the full alphabet and the pronunciations for each character.  It also allows you to record your own voice and play it back with the sample pronunciation . So I can try to decide for myself how well I'm improving.
Even though I'm skeptical about my ability to learn languages, I do want to learn another language proficiently. Hungarian will probably not be the language that I put that significant effort in to. I want to learn a language like French, or Spanish, or Chinese that will allow me to communicate all around the world. Which language should I choose for this? Do you have any tips or free resources on learning another language? Leave tips or questions in the comments below.
UPDATE: It looks like LiveMocha as updated their software, and there is now a speaking portion to the lessons! The basic lessons I've described are still free, but they have also added premium features for a fee.